Quite the title, but it works…
We went up to Denver on the 4th of March 2019 to work at the USA Judo Youth Nationals and then at the Denver Spring Judo Tournaments.  It's good to volunteer for good causes.
Returned to Puerto Vallarta with Jess' brother Alex and sister in law Joanne in tow.  We spent a couple nights at dock in Marina Vallarta provisioning and preparing the boat after a couple weeks away and then struck off (on a Friday with bananas on-board) for parts south.
One overnight and we found Chamela Bay and the village of Perula.
We stayed a couple nights then a day sail down to Tennacatita Bay and caught up with friends James and Denna on s/v Nellie Jo.
Stayed a couple nights and on to Barre de Navidad with a lunch stop in Cuesta Camate.
The water taxi still runs, the French Baker is still active and there are few cruisers in town.  The marina looks near deserted of cruisers and the lagoon has fewer than 10 boats.
We will put the boat into the marina here at Barre de Navidad it is called Marina Puerto de la Navidad on the charts:
We are off to Ciudad de Colima via ETN bus for a couple days sight seeing and bird watching leaving tomorrow,
and then Alex and Joanne will head for Puerto Vallarta from Colima City and we will return to Barre to continue the season.
Techie time:
Below is a listing of stuff brought back to the boat this trip to Denver and some notes on parts fixed already…
The air breeze
Wind generator blades do seem a lot quieter, yeah!  I did feed the special 17mm LH thread stainless steel nut to Neptune on disassembly and cursed quite a bit.
Then after being ask, by our new landsmen sailor apprentices, weather or not I had a spare 17mm LH thread stainless steel nut I promptly ripped out the spares kit where one would have been if I had one, knowing full and well there was no way I had something like that in order to show them NOT to question the boat skipper like that right after he made such a grand sacrifice to the god of the sea….
And low and behold…  It did get reassembled with the spare 17mm LH thread stainless steel nut that I knew I did not have in that spares kit!
So between the new circuit board we installed in December and these blades it is running pretty well.  I saw 6 amps on the amp meter attached to it the other day in around 18 to 20 knot winds
Adjustable internal regulator alternator
Have not tried new spare adjustable alternator yet.  That is a blog by it's self.
Airhead composting toilet seat replacement:
My bad I did not look at the Airhead web sight
https://airheadtoilet.com/the-air-head/details-dimensions/
for the different seat configurations.  I emailed the same fellow we bought from in 2010.  In my defense, he sent a new seat without asking if it was marine or household…
The household is a bigger bigger seat, however,  from a study of the dimension-ed photos  I removed the old plastic brackets from the 2010 Airhead mucked up the screw holes with some 5200 and drilled holes into the plastic toilet and through bolted with 1/4-20 and lock nuts from the original assy. and added stainless washers both sides.  Seems sound!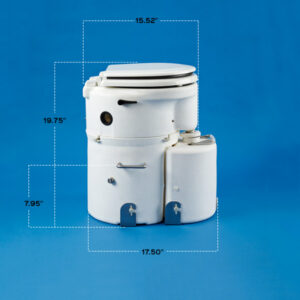 | | | | | |
| --- | --- | --- | --- | --- |
| | Mexico March 20 2019 | | | |
| | 70 amp alternator | 179.86 | 1 | ea |
| | collinite wax | $31.33 | 1 | lot of 2 |
| | cut resist gloves | $8.18 | 1 | pair |
| | hose clamps | $9.69 | 1 | lot of 10 |
| | sew light | $10.99 | 1 | ea |
| | howard sun shield | $12.48 | 1 | lot of 2 |
| | 150 gpd water filter | $88.50 | 1 | 5 piece set+conn |
| | air breeze blades | $119.99 | 1 | lot of 3 |
| | Strainers missed delivery | 0 | 1 | lot of 2 |
| | 1/4-3/8 fittings | $8.18 | 1 | lot of 5 |
| | sew machine case | $29.99 | 1 | ea |
| | 1/4-3/8 fittings | $9.19 | 1 | lot of 5 |
| | toilet seat | $60.00 | 1 | seat+ hinges |
| | 18″ battery cables | $23.58 | 1 | lot of 2 |
| | pfds | $299.98 | 1 | lot of 2 |
| | radio | $46.99 | 1 | ea |
| | hammer drill | $0.00 | 1 | ea |
| | air fittings(2), gloves,solder | $29.22 | 1 | lot 4+2+1+1 |
| | air regulator | $23.00 | 1 | ea |
FIN for Now